There's So Much to Discover Inside the Pages
of The 9 Steps to Keep the Doctor Away...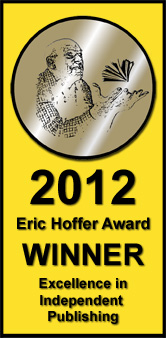 Why the medical "establishment" doesn't want you to have this information … (hint: it's NOT just to sell more drug and surgeries!) … go to page 6.

Why "mainstream medicine" is little more than a sinking ship -- and why that's good news! Here's exactly how you can keep yourslef and loved ones safe … page 8.

Why this so-called "lifesaving" treatment, promoted by modern medicine and the media, is KILLING people around the world… EVERY single day -- and is responsible for millions of health problems each year in the US alone … page 8.

If you've ever been told "it's all in your head" … go to page 9 immediately!

6 "incurable" chronic diseases you can help reverse with The 9 Steps (plus many, many more!) … page 9.

The simple question that changed the entire course of Dr. Buttar's personal and professional life … page 33.

The REAL REASON why your body "ages" and "rusts." (Those who truly understand this are no longer victims to the process of getting older!) … page 38.

The "missing link" -- which is responsible for all forms of disease -- that the medical establishment DESPERATELY doesn't want you to know! (Because once you understand this phenomenon, you will never need their drugs or treatments again. YOU will now have all the power!) … page 42.

The best types of foods for supercharging your immune system … page 49.

Why many women actually need more testosterone … but even more importantly, the "right" way to go about getting it! (If you're a woman suffering from low energy or weak sex drive, go to page 54 immediately.)

The little-known and often dangerous problem with "anti-aging" treatments. Nobody is talking about this, but the information shared on page 58 is about to turn the entire anti-aging world on its head. Read about it here first!

How a 5-year-old child who could barely walk … become 100% pain-free in just 6 months! (This breakthrough could be the key to ending your pain, too!) … pages 63-67.

The TRUTH about organic food. (The statistics on page 71 don't lie!)

Learn the top 21 fruits and the top 21 vegetables and why they are the most beneficial for you to consume … page 72.

How to recognize when NOT to eat certain foods. (This is key!) … page 74.
This Wellness Plan Will Save Lives.

"In his new book The 9 Steps to Keep the Doctor Away, Dr. Buttar lays out an effective system for ridding the body of toxicity and reestablishing a healthy internal environment. In a world where good health is now the exception rather than the norm, following Dr. Buttar's wellness plan will save lives."
---Jordan S. Rubin, NY Times bestselling author of "The Maker's Diet"
This Is an Absolute MUST Read!

"If you value your health and the autonomy to control your own physical future, this is an absolute MUST read. Filled with heart warming true stories which illustrate practical steps anyone can master, this book is the light at the end of a dark and confusing medical tunnel."
---Greg S. Reid, Wall Street Journal best selling author of "Three Feet from Gold"
YES!


I want to order


The 9 Steps




To Keep the




Doctor Away



and get my
DISCOUNTED
DVD!
Dr. Buttar with
Sugar Ray Leonard
Do You Suffer from
ANY of the Following Problems?
Do you often find yourself craving sugar throughout the day?
Do you ever find yourself reaching for coffee in the morning, and then again during your "afternoon slump"?
Do you struggle in finding the energy and motivation to exercise
Does your body "ache" after you exercise?
Is your sex drive slowly slipping away?
Does it seem like your muscles are shrinking, yet your waistline is growing?
Do you find it hard to fall asleep -- or have difficulty sleeping through the night?
Are you confused about what kind of water is best? Or how much to drink?
Do you ever struggle with what you should be eating each day?
Do you often seem to catch whatever's "going around"?
When you look in the mirror, do you see yourself getting older or younger?
Do your joints ache even though you don't have arthritis?
Do you wake up with lots of natural energy, or slowly roll out of bed?
If Any of This Sounds Familiar, The 9 Steps Will Arm You
With Information That -- If Acted Upon -- Can Help
Free You from These Challenges...
And Give You the Health You Truly Deserve!
Desperately Needed and HIGHLY
Recommended!

"Dr. Buttar understands and acts to solve the fundamental problem of our time: You were not born to live in this world. Your environment has changed, and the toxic burden of modern life threatens your vitality. As an overfed yet undernourished nation, we struggle to find the roots of our native diet and to remove the buildup of modern toxins to live a vibrant and disease-free life. Dr. Buttar offers a clear and practical way to do just that: Eliminate the causes of chronic disease and find a true balance in mind, body and spirit. The 9 Steps to Keep the Doctor Away is desperately needed and highly recommended."
---Al Sears, MD, author of "The Doctor's Heart Cure" and "PACE: The 12-Minute Revolution"
Common 21st Century Health Care

" As a seasoned and bold physician who has fully recovered his own son and thousands of other patients from poor prognostic conditions, Dr. Buttar is uniquely qualified to shed light on what will eventually become common 21st century health care. America spends well over $2 trillion per year on a rich mixture of high tech medicine, including useless diagnostics, defensive medicine, palliating symptoms with expensive and dangerous drugs, and hopeless therapeutics for many cancers and autoimmune diseases. By implementing the simple but powerful advice in this book, individuals can prevent and reverse common ailments, while this country may well save itself from bankruptcy over our unmanageable health care costs. Highly recommended! "
---Patrick Quillin, PhD, RD, CNS, author of "Beating Cancer With Nutrition" and 16 other books with over 1.2 million combined copies sold, and Past Vice-President of Nutrition for Cancer Treatment Centers of America
This Is an Absolute MUST Read!
"Dr. Buttar is awake! He brings "Consciousness" to medicine, healing and health. That is who he is and why he does what he does. His role in helping all of us awaken to a new understanding of disease, of toxicity and of the possibility for our health has been assigned by the highest source. It is this pre-ordained quantum convergence of old and new knowledge that has allowed him to help so many from all over the world. Dr. Buttar's favorite slogan "Making The Change The World Is Waiting For" has already begun. And the possibility of a new, healthier and better world about to be born as a result is now becoming a reality."
---John Malherbe, Founder, MSP Telemedicine SA, affiliate of Harvard Medical School
Even More to Discover!

How to instantly cut through all the diet fads, gimmicks, lies and B.S. -- and immediately know which foods will give you your leanest, healthiest, most balanced and naturally disease resistant body … page 75.

Why you've been lied to about saturated fat animal products, and why it's okay to indulge -- once you know the secret on page 77-78 (Hint: Atkins was only half-right … the other half he overlooked could very well save your life!)

The ONLY type of milk that's truly good for you! … page 80.

The 5 best fats to include in your diet … this means that all the other fats are not only useless, they can rapidly accelerate the aging process … page 85.

The #1 most toxic "food" on earth. (It infuriates Dr. Buttar that this was marketed as "healthy" for decades!) … page 86.

Why there's NO NEED FOR YOU TO DIET! This will show you how to eat the rich, savory foods you love -- and be slimmer because of it! … page 92-93.

This one "grateful" action will change the way your body digests and responds to food … page 92.

Why you might be taking too many supplements -- or worse, taking the wrong ones! … page 96-97.

The massive health advantage your great-grandparents had over you -- and how to get it back … page 98.

Why cooking with the wrong "health oils" can be highly toxic. … page 101.

In a study done by the University of Washington, 13 of 15 nutritional supplements didn't even have the nutrients promised on the label! Worse, all except one contained significant levels of contaminants. Here's how to choose your supplements wisely … page 102.

ARE YOU TAKING ZINC? Here's why you might not need it … and why it could actually be hurting you … page 105.



5 personal "rules" for making sure your supplements are actually helping you. page 109.

Why you may not be hungry … but rather, THIRSTY! Here's how to tell the difference … pages 111-114.

Do you drink any of these liquids on page 115? If so, you may need to drink more water to make up for them!

A simple rule for how much water to drink each day. Find it on Page 115.

Are you confused about which kind of water to drink? Here's how to cut through all the advertising hype … page 117-119.

Info on the best type of water filter on the planet is on Page 119.

How to instantly and almost magically change the way your water feels and acts within your body. This incredible secret is on Page 123.

This "C" might be making it impossible for you to exercise… Page 130.

More Health Secrets You
Won't Find Anywhere Else...
»This dangerous "hidden" poison is almost certainly sabotaging your health right now. If you've got a variety of health challenges you just can't explain… and especially if you struggle with energy, focus, hormonal problems, and fat metabolism -- then THIS TOXIN (revealed on page 32) may be the culprit!
»If you effectively eliminate these seven toxicities (revealed on page 255-281), you'll learn why chronic disease simply can not exist.
» This principal, if followed, will only lead you to better dividends as you age. Find out on pages 134-138.
» A fish struggling out of water demonstrates the vital nature of this crucial principal which is discussed on pages 153-155.
» The gift of this one simple action (on pages 178-180) will forever change your life. However it's easier said than done.
» The one thing we definately do NOT want to wait for science to prove, can be found on page 189. Start this now!
» Find out why the best form of medicine will always leave you with a smile on your face. Find this on pages 207-208.
» One massive myth about longevity commonly propagated by "anti-aging" doctors, that if you ignore, could and most probably will lead you to eventually suffer from cancer. Learn this critical information on pages 234-239.
» This one truth (pages 301-305) will change not only your health, but every aspect of your life allowing you to claim your inherant power.
Even More Praise for the 9 STEPS!

"Read this book! You won't be sorry."
"Due to his revolutionary innovations, Dr. Rashid A. Buttar is perhaps the most impressive health practitioner of the modern era. In this brilliant book, he 'spills the beans' on how to get healthy and stay healthy, based on his personal experience with literally thousands of patients from all over the world. In light of the abysmal health of many doctors, you might be inclined to follow the maxim, 'Never accept health advice from an unhealthy doctor'. But Dr. Buttar not only talks the talk, he walks the walk. He is a picture of health because he lives his own advice. This book is essential and will be life-changing. When I began to read it, I honestly couldn't put it down. It should be in everyone's library! Read this book! You won't be sorry."
---Ty Bollinger, author of "Cancer – Step Outside the Box"

"When Others Say Nothing Can Be Done About Your Condition, It's Time to Consult with Dr. Buttar."
"Dr. Rashid A. Buttar understands what is going on in the world of medicine. His eye is on the real medical basics (like mercury and other heavy metal toxicity) and what to do about them to bring a person back to health. He is a tough and forceful physician who does not run away from confronting the establishment and medical consensus when it is wrong, which it usually is. When others say nothing can be done about your condition, its time to consult with Dr. Buttar. Read this book for he will take you through some inner territory which most others will not be able to or are incapable of doing so."
---Mark Sircus, Ac., OMD, author of eleven books on natural healing including "Sodium Bicarbonate – Rich Man's Poor Man's Cancer Treatment" and "Winning the War on Cancer"

"Wonderful Guide to Optimum Survival and Good Health."
"We face awful challenges from the toxic world we live in. Dr. Buttar's The 9 Steps to Keep the Doctor Away demonstrates clearly the power of healthy lifestyle choices and the tremendous need we have for optimal nutrition and multiphasic toxification in order to thrive in today's environment. It can be done, and Dr. Buttar shows us how using these 9 simple steps. I really appreciate this wonderful guide to optimal survival and good health."
---L. Terry Chappell, MD, author of "Questions from the Heart", Past President of the American College for Advancement in Medicine and the International College of Integrative Medicine

"This Book Empowers You!"
"The 9 Steps to Keep the Doctor Away does in 352 pages what thousands of pages in the Federal 'health care' takeover can't do. This book empowers you to restore yourself to health instead of government foisting 'disease maintenance' upon you while robbing you by taxation. Until we address the fundamental causes of dis ease, we will pay more, get less and remain ill with bodies that cannot heal. With these 9 steps, you can avoid the "disease maintenance" paradigm and reclaim your own body. If America were to awaken to these 9 simple truths, there would be no 'health' crisis, and no need for government takeover to prop up a failed system."
---Robert Jay Rowen, MD, Editor-in-Chief of "Second Opinion Newsletter"
Order Your Copy of The 9 Steps to Keep the Doctor Away
and Then Choose One of the Following DVDs --
Worth $89.55 Each -- For just $35.82 Each (a 60% Discount)!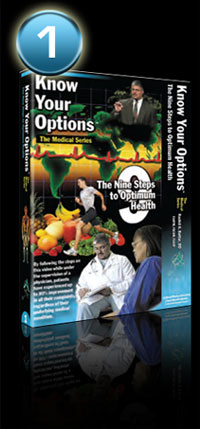 9 Steps DVD
• This DVD will radically enhance your experience with the 9 Steps book. In it, you'll discover …
• Why laughter truly is the best medicine (this groundbreaking scientific research confirms it!)
• No matter what your faith, here's a proven way to speed your healing (just don't wait for the clinical studies on this one, the drug companies can't patent it!)
• The one type of water that helps detoxify your cells, gives you vital nutrients and sets the stage for accelerated healing …
• Supplements are too expensive to not know if they're working. Here's how you can always tell which are actually doing the job …
• And so much more …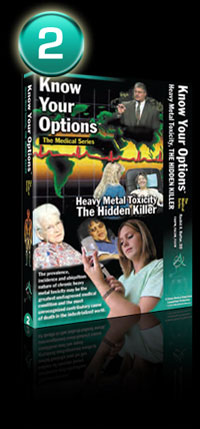 Heavy Metal DVD

• Heavy metals are by far one of biggest "modern" threats to your health. The information in this DVD will help you take the actions that can shield you and your loved ones from danger:
• Learn about the single greatest suppression in the history of medicine …
• Discover the 2nd most toxic substance that you're exposed to everyday.
• The one thing you can do to dramatically reduce your risk from heavy metal exposure …
• 5 ways to tell if you're in grave risk of heavy metal toxicity (and what to do about it) …
• Plus, many more potentially life-saving tips …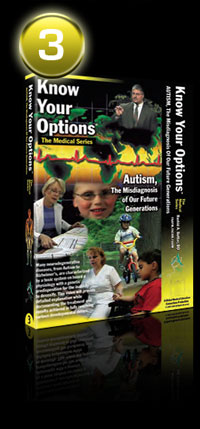 Autism DVD
• Whether your child or someone you know has been affected by autism, this DVD will show you once and for all, that there's MORE than just hope! Autism can be healed, just like anything else. In this DVD, you'll learn …
• The two primary causes of autism (contrary to popular belief, it's NOT a genetic condition!)
• 5 common actions you should NEVER do if your child has autism …
• The single fastest (and safest!) road to autism recovery …
• Learn the various risk factors that will exponentially increase the likelihood of your child suffering from autism …
• Learn the truth about the roll of genetics (and the lack of) in autism …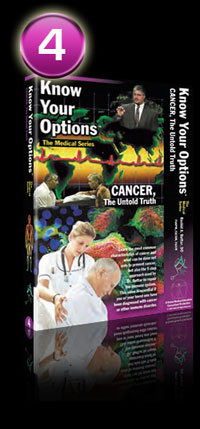 Cancer DVD
• Learn the real truth about cancer! Cancer is absolutely not the death sentence you've been lead to believe it is. Discover …
• The "5 step approach" when addressing the needs of a patient suffering from cancer to stop it dead in its tracks …
• 3 things you should NEVER do if you have cancer (what 98% of all doctors won't tell you) …
• Why the 3 most common treatments for cancer don't work. You must address THIS common underlying cause to stand any chance …
• Things you eat everyday that directly feed cancer cells …
• And so much more to prevent suffering from the clutches cancer…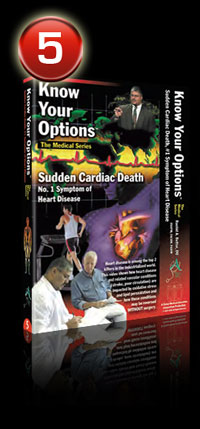 Sudden Cardiac Death
• Most people fear heart disease as they approach their later years. But it doesn't have to be that way! Heart disease can be easily prevented for life -- once you understand and ACT on these key facts …
• The hidden cause of heart disease (no it's not cholesterol or high blood pressure!)
• The common medical treatment that multiplies your risk of heart disease by a factor of 10!
• The shocking truth about cholesterol -- and THE DRUGS (which supposedly "reduce" it) …
• One thing very few people do, which massively reduces your chances of having a heart attack …
• And more "heart healthy" truths you've been kept in the dark about!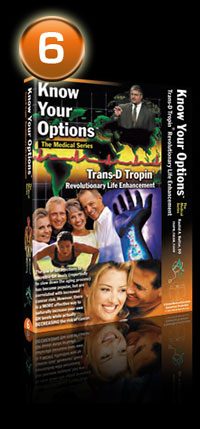 Trans-D DVD
• Hormones are often the most overlooked and potent way to make yourself feel better and even look younger. Yet hormones are also one of the most misunderstood subjects in all of medicine. In this DVD, you'll discover …
• What disease hGH supplements and treatments put you at risk of getting …
• One of the best ways to prevent all disease at once!
• The easiest 3 ways to reduce your pain and inflammation levels ...
• A simple action you can take to increase your lifespan (and often times, feel a LOT better right away!)
• Why hormone supplementation the way it's currently done, is almost always a bad idea (including which ones are the worst culprits of all) …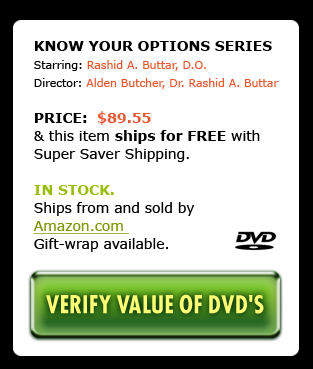 That's right -- for each copy of The 9 Steps to Keep the Doctor Away that you order right now, you'll have the opportunity to purchase one of the DVDs from our award-winning and truly life-changing Know Your Options™, The Medical Series at an Incredible 60% Discount from the retail price. This is NOT some marketing ploy offering you something worthless as an incentive to order the book!
As you can see from the screen shot to the right, each DVD is currently selling on Amazon for $89.55... and people are happily paying that price all over the world. Yet as part of this very limited book launch, just order the book and you can purchase the DVDs for just $35.82 each (which is a 60% Discount off the retail price).
Dr. Buttar's Patients Speak Out!


"I Have Even Put My Own Life In His Hands."
"In 2001, I was diagnosed with stomach cancer. I have the benefit of being able to go anywhere in the world for treatment and I chose Germany. After arriving but prior to beginning treatments, I was made aware collectively by a number of people that the best doctor in the United States who addresses the needs of individuals with cancer was Dr. Rashid A. Buttar. I immediately changed my plans and returned to the States and flew directly to North Carolina to see Dr. Buttar. The rest as they say, is history. I trust this man implicitly and have even put my own life in his hands. And I would do it again, without any hesitation. With this, his first book, Dr. Buttar has hit a Grand Slam! And believe me, I know books! This fantastic book is an owner's manual showing how the body really works while providing a game plan to achieve and maintain excellent health for you and your family... it is an absolute must read!"
---Burton Goldberg, author of 18 books and 5 films on Natural Health and Alternative Medicine, including the world wide distributed "Definitive Guide to Alternative Medicine".


"The life you may be saving ...might just be your own."
"As a patient of Dr. Buttar for more than 7 years, I know firsthand the life-changing impact of his work, and I'm proud to call myself one of his many successes. Over the years, he has become so much more than just a doctor; he is a good friend and a trusted advisor, but most importantly, he is someone I have bestowed with the highest possible honor I could give – intrusting him with the care of my family. For the first time ever, Dr. Buttar is sharing his breakthrough findings through 9 Steps to Keep the Doctor Away. This is a truly priceless opportunity – a glimpse inside the genius mind of Dr. Buttar. If you care at all about yourself, your family and your future, make this book, and the concepts included in it, a part of your daily routine. Can't we all agree that the health and well-being of ourselves and our families should be at the very top of our priorities? Don't wait for a health crisis in your own life to start preparing. Allow yourself to challenge traditional medical thinking and most importantly, make the most of this precious gift. After all, the life you may be saving by adopting these principles might just be your own."
---Greg Provenzano, President and Co-Founder of ACN Inc., the World's Largest Direct Selling Telecommunications Company providing services in 21 different countries.


"I would not be living today if I had not found Dr. Buttar."
"Anyone who has any concerns about their health needs to read this book. It tells the truth in plain language so you and I can understand it, and does so candidly, without any concern or influence of fear of the FDA, mainstream medicine and big drug companies. I became a patient of Dr. Buttar in March of 2003 after having 4 heart catherizations (which didn't help) for blocked arteries that were causing chest pains and shortness of breath. I was 70 years old at the time. After tests, Dr. Buttar started me on a specific chelation program, changed my diet, and set me up on an exercise program. It didn't take long for my strength to start coming back and the angina and shortness of breath became a memory of the past. I resumed a work schedule tailored to my own desires and meeting my needs. As I write this I am approaching my 78th birthday, and play golf 3-5 times per week. I take no medications at all anymore and firmly believe I would not be living today if I had not found Dr. Buttar and started on his very sensible program. You can be helped too by reading this book and applying the principles outlined. Thank God for Dr. Buttar's research, beliefs, talents, and dedication to help others."

---- Ned Jarrett, 2 time NASCAR National Champion, inducted into 15 Halls of Fame and the only person in history to retire from NASCAR while still a National Champion.
What Makes the 9 Steps So Different from
Anything Else You've Ever Seen?
The answer lies in the man who created the process -- Dr. Rashid A. Buttar. Simply put, NO OTHER DOCTOR OF OUR TIME has crusaded harder, traveled further and scarified more to advance the real science of alternative and integrative medicine than he has. Today, many of the breakthroughs Dr. Buttar fought so hard to establish have been adopted by hundreds of doctors.
Always courageous in just causes, Dr. Buttar immediately began serving in the U.S Army right after medical school and internship, where he served as a brigade surgeon for the 2nd Infantry Division, the 101st Air Assault Division, the 5th Special Forces Group and eventually as Chief of Emergency Medicine at Montcrief Army Community Hospital. Then later, while serving as the Vice-Chairman of the American Board of Clinical Medical Toxicology, Dr. Buttar earned fame with his bold testimony before the U.S. Congress. He now serves as Chairman.
Still, it is Dr. Buttar's pioneering work in advanced detoxification techniques and longevity therapies leading to remarkable recoveries in patients suffering from cancer, heart disease, autism and many other chronic diseases for which Americans may thank him most. He braved attacks from former colleagues who were already being lured by the temping profits of "big medicine" or ineffective yet lucrative treatments. At one point he was even put on trial by his own state's medical board, all for insisting on life-saving treatments that, at one time deemed controversial, are now starting to gain widespread acceptance.
Among his associates, Dr. Buttar is famed for both his bold, feisty sense of humor and almost superhuman energy levels. While typically operating on just 3-4 hours of nightly sleep, many other Doctors marvel at how he juggles a full-time clinical practice… a happy family of five… speaking and television appearances around the world… all while spreading the powerful message -- via The 9 Steps to Keep the Doctor Away book -- that anyone can USE to transform their health forever.
World-Recognized Doctors Continue
Their Enthusiastic Praise for
The 9 Steps!

"One of the Finest Guidebooks Ever
Written on How to Really Live!"
"You might be thinking, "Oh, great, another
"CAN DO" book that I can't do!" But you
would be wrong and amazed to later learn
that you had turned your back on one of the
finest guidebooks ever written on how to
really live. You can do it! And this remarkable
book will show you exactly how."
---John Parks Trowbridge MD, FACAM,
best selling author of The Yeast Syndrome

"Simple and Easy to Follow!"
"Dr. Buttar's extensive knowledge and intuitive
understanding of effectively healing disease by
clearing the body of toxic burdens and
regeneration of tissue by optimizing
physiology has been compressed into a book
that makes "feeling better" simple to achieve
and easy to follow. This book is an incredible
gift and an effective tool for people who are
not only looking to improve their physical
health but also want to understand what the
journey is all about. I loved The 9 Steps to
Keep the Doctor Away and can't recommend it
enough. Absolutely a must read!"
---Victor A. Marcial-Vega, MD, author of
Rejuvenation Protocol: A Nutritional Medicine
Guide For Effective Healing, and ranked
among the Top 10 Oncologists in the World
in Burton Goldberg's Alternative Medicine,
Definitive Guide to Cancer


"Hits the Bulls-Eye!"
"Dr Buttar's new book, The 9 Steps, is a breath
of fresh air. From his correct implication of
vaccines as the principle driver of the multi-
billion dollar healthcare system, he lays out a
no-nonsense approach for gettingand staying well.
We have lost our ability to think for ourselves
and have been incrementally enslaved with media
brainwashing and medical misdirection on a global
scale. His challenge to each person -- take on
self-education and implement self-responsibility --
hits the bulls-eye for restoring health and reforming
healthcare. Take The 9 Step 30-day challenge. You'll
be glad you did; your life and your future, literally,
depends upon it."
---Sherri Tenpenny, DO, AOBNMM, author of
"Saying NO to Vaccines" and "Fowl! Bird Flu:
It's Not What You Think"

"A wonderful book that I highly recommend!"
"Dr. Rashid Buttar has done it once again, this time
in his book, "The 9 Steps to Keep the Doctor Away."
He has clearly demonstrated in his unique way, how
each one of us can take simple yet effective actions
in our everyday lives that will cause a positive shift
in body, mind and spirit leading to optimal health and
longevity. A wonderful book that I highly recommend!"
---John Cline, MD, author of "Detoxify For Life"
and instructor for Functional Medicine

"The first step in your Health Recovery is to
buy this book"
"Remarkably, Dr. Buttar's book would be a great
primer for any healthcare practitioner who wanted to
practice advanced, integrative or alternative medicine.
It gives one a place to start, as well as a foundation
of principles to rest upon. His straight forward
explanations of basic tenets and controversial issues
in healthcare exemplify the true meaning of the word
doctor which is teacher.

This book is classic Dr. Buttar. He gives you 3
Foundations, 9 Steps and 7 Toxicities. For anyone
else, that would be enough but not for him. He
spends another whole chapter and an Epilogue
trying to convince you that you can do this, it's
possible. He really, really wants you to get it
and become healthier because that's who he is –
thanks Rashid! "
---James E. Smith, D.O., author of "Digestive
System, A Self-Help Pathway to a Healthier
Digestive System that is as easy as 1-2-3"
Are You Ready to Experience the Best Health of Your Life?
If you are, then what are you waiting for?
It doesn't matter what health challenge you're currently facing... or how ambitious you are about looking and feeling younger. The 9 Steps to Keep the Doctor Away is a PROVEN blueprint for achieving the strong, youthful, radiant body the Creator intended for you to have. With this book, you'll discover the truth about your body and your state of health... what could be getting in the way of you functioning optimally... learn the secrets of achieving and exceeding your own expectations of health and wellness... all the while learning about the elements that slow, stop and even reverse the aging process.
Best of all, this is all done naturally -- using just your body's own healing power and wisdom so that you never need to depend on outside Doctors or medical authorities again. Armed with The 9 Steps to Keep the Doctor Away, YOU are forever in the driver's seat when it comes to your own health, well being and happiness.
Ultimately you've seen the proof on this page. The Doctors, experts, authors and celebrities on this page are only a small fraction of those who've benefited from this breakthrough process. This same crucial information can now easily save you or your loved ones TENS OF THOUSANDS OF DOLLARS in unnecessary medical expenses. Or you can save yourself the $23.95 and NOT order this book... the choice is yours!
Order your copy of The 9 Steps to Keep the Doctor Away TODAY!
Don't wait another day for the health you deserve right now.
After all, aren't you and your loved ones worth the simple price of a book?